Winter Is Coming – How to Avoid Water Damage & Ice Dams?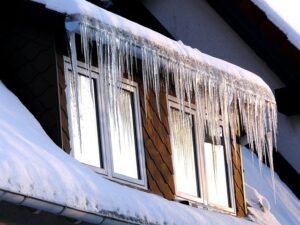 Icicles might make your house appear like it's part of a winter wonderland; but this picture-perfect scene can turn into your worst nightmare when the ice dams settle on the rooftops. Possible problems include broken shingles, frozen gutters, mold growth, etc.
Learning how to avoid water damage and ice dams can save you from costly repairs and severe property loss. Our home restoration experts nudge you in the right direction with handy tips and tricks to prevent snow-related water damage.
Here's what you should know:
The Premises: What Are Ice Dams?
Ice dams are ridges of melted snow that refreezes and accumulates at the edge of your roof. These frozen structures are formed because of the uneven temperatures on the rooftop. Its presence creates a barrier between the melted water and your roof's drainage system.
The blockage causes the water to seep underneath the roof, shingles wreaking havoc inside and outside the house.
Visible signs of structural damage include:
Loose and broken roof shingles
Water stains and dampness on ceilings and walls
Insulation issues
Peeled paint and distorted drywalls
Sagging
Apart from this, prolonged ice dam formations place excessive pressure on the roof itself. That compromises the structural integrity of your roof, causing it to weaken and collapse under the weight.
Knowing how to avoid water damage and ice dams can limit the dangers of this wintry nuisance.
Prevention Plan: How to Avoid Water Damage and Ice Dams?
Ice dams are formed because of uneven temperatures on the rooftop. It's mainly because of the contrast between freezing temperatures outside and heating systems running inside. Due to it, some of the melted snow freezes to form ice dams while the other remains in its liquid state.
You can reduce risks by improving insulation and ventilation on the rooftop and structural areas connected to it.
Here are some home winterizing tips that can help:
1. Maximize Insulation inside the Attic
Hatches function as outlets for warm air to pass through when you've got the central heating system on during the chilly season. That often creates hot spots on the rooftop. They can cause the melted snow to form ice dams when the water comes into contact with the freezing temperature outside.
Use weather-resistant hatch covers to ensure warm air stays in whenever you use the heater. In addition to this, you can prevent warm air from collecting near the attic ceiling by increasing insulation near the rafters and joists.
2. Install Heated Cables
Install heated cables at the edge of your roof to ensure that all parts of its surface remain consistently warm through external heating. The high temperatures will prevent icicles and ice dams from forming. In turn, it decreased the chance of water damage in winter.
Give equal importance to ventilation by ensuring that the air circulates evenly and doesn't build up in specific spaces. Install exhausts and fix broken duct lines around the house.
These practices can reduce winter-related HVAC issues that promote ice damming.
3. Snow Removal 
Limit ice dam formation on your roof by removing snow whenever it settles on top of your house. Climbing the roof can be risky when it's covered with slippery snow and ice. You can either hire a professional roofer or use a garden rake to clear out the snow.
As a result, the temperature on your roof becomes more consistent, and you manage to protect the shingles from the weight of excess snow.
4. Invest in Ice/Snow Shields
Protect your roof shingles and exterior structures with the aid of snow and ice shields. These weatherproof products function as barriers against water damage and ice dams. Many of them cover roof eaves and stop melted ice and snow from collecting in that area. Other preventative products limit water seepage when the ice forms in some parts of the rooftop.
The Restoration Plan: How Can We Help?
911 Restoration of Metro Detroit brings years of expertise in dealing with winter-related structural damage and emergencies. Our IICRC-trained specialists know how to avoid water damage and ice dams when the weather gets rough. We are equally efficient in controlling side effects like mold growth and severe property loss.
We do this by conducting a detailed home inspection. After which, our home restoration experts create a personalized plan for water mitigation, disaster restoration, mold remediation, and more.
Best of all, our cooperative team works 24/7. That means we make time for you during the holidays to ensure that you enjoy the festivities without experiencing property loss or costly repairs.
In a Nutshell
A significant part of learning how to avoid water damage and ice dams revolves around timing. Winterizing your rooftops in the fall and clearing off the snow can make maintenance manageable.  If things do get out of hand, you can trust our certified home restoration experts to help. They will use industry-grade equipment for ice dam removal and underlying structural issues.
That way, you can enjoy the winter weather in peace with no signs of ice damming damages.
Do you see icicles and ice dams on your roof? Contact 911 Restoration of Metro Detroit North to schedule a free inspection before things escalate.