Mold Removal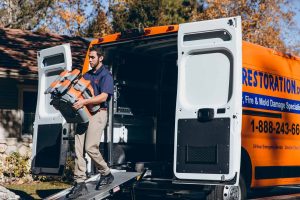 Get same-day help with mold removal service in Warren. Contact 911 Restoration for assistance 24/7/365. IICRC certified remediation specialists can reach your property in Sterling Heights, Troy, and surrounding areas within 45 minutes of your emergency call. Crews can offer you a Fresh Start as they:
Perform a free visual inspection for property owners only
Quarantine areas of your property with mold growth
Handle decontamination and odor removal
Resolve the underlying causes of your infestation
The cleanup experts at 911 Restoration of Metro Detroit North are trained to deal with commercial and residential fungal outbreaks. Techs can find mold even in hard to reach places, like under your floorboards or behind your walls. Crews even use infrared scanners to locate spots of moisture that can indicate growth. We provide mold damage restoration in Warren.
You can rely on use to offer you personalized assistance with mold remediation in Warren. We know that no two infestations are exactly alike. That's why crews work to develop a specialized removal plan based on the results of your inspection in Warren or the surrounding areas. Call us at 586-232-0172 and allow us to provide you a free visual inspection.
911 Restoration of Metro Detroit North can also handle flood cleanup and water damage in Warren. Damp environments encourage mold growth. Let us dry out your property quickly after a flood or pipe burst in Troy. Restoring your property quickly following a water damage emergency reduces the odds that you'll need mold decontamination services. Find out more about how we can help by calling us now.
Does Insurance Cover Mold Remediation in Warren?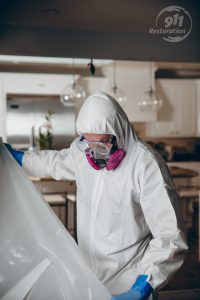 Your property owner's insurance may cover remediation services in Sterling Heights. Generally, insurance policies in the Sterling Heights area cover cleanup if you the mold was caused by a sudden, unexpected event and if you began the renovation process quickly.
You can get same-day help with mold removal in Troy by contacting 911 Restoration of Metro Detroit North. In fact, decontamination specialists can reach your property in under an hour to begin the cleanup process. Crews can generally complete cleanup in one-to-five days, allowing you to quickly put a mold infestation behind you.
The mold remediation specialist in Warren at 911 Restoration of Metro Detroit North also have experience dealing with insurance companies in the area. Crews may advise you on the best way to report a mold infestation to your insurance agent. If it damaged any of your possessions, techs can also help you complete an itemization of your lost belongings.
Your insurance policy may also help you deal with the costs for water damage restoration. Note that flood damage is often not covered by insurance policies. 911 Restoration of Metro Detroit North can take steps to keep your flood cleanup costs as low as possible, even if they are not covered by your insurance. call us 586-232-0172
Allow us to provide you with a cost estimate for mold cleanup and water damage restoration in Sterling Springs. Techs can go over the costs for decontamination after they perform a free visual inspection for you. Contact us right now to get started.
What Equipment is Used in Warren Mold Cleanup?
Mold cleanup in Troy requires the use of specialized equipment. Depending upon your unique needs, removal specialists may utilize:
Plastic sheeting to keep areas with mold growth isolated
Negative air pressure machines to stop it from spreading
Air filters to get rid of spores
Specialized cleaners to disinfect your property
Remediation crews in Sterling Heights can disinfect possessions infested with mold. In many cases, we can get rid of all traces of mold, so you can keep your belongings. However, in some cases there will be too much growth. In these cases, we can dispose of infested items for you.
You can count on us to scrub down all areas exposed to mold growth. Decontamination in Warren may require us to scrub your air conditioning vents, walls, floors, ceilings, and more. 911 Restoration of Metro Detroit North focuses on comprehensive remediation, as we know that mold may come back if areas of infestation are missed in the cleanup process.
IICRC-certified crews can also reduce the odds that you will experience a subsequent infestation by handling drying and dehumidification in your property. It is much harder for mold to grow in dry areas. Therefore, completing water damage restoration can reduce the chances that you will have to deal with fungal growth in the future. We have full-scale service in the mold remediation business in Warren, call 911 Restoration of Metro Detroit North at our number 586-232-0172
Begin mold removal today with expert help from licensed, bonded, and insured technicians. Contact 911 Restoration of Metro Detroit North and get a Fresh Start right now. Crews can assess your needs today with an inspection.
Serving the communities of Rochester, Southfield, Sterling Heights, Troy and surrounding areas