Disaster Restoration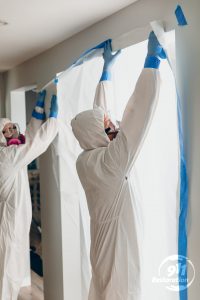 Do you need help with property storm restoration in Warren, Sterling Heights, Troy, or any other surrounding areas? You can get the Fresh Start you deserve from the professionals at 911 Restoration of Metro Detroit North. Reach out to us 24/7/365 to speak with IICRC certified disaster restoration professionals. Crews are always ready to race out to your property within 45 minutes of an emergency call.
You can get help with storm restoration services in Warren in under an hour. The professionals at 911 Restoration of Metro Detroit North can race out to your home or business to handle:
Emergency roof repairs
Emergency boarding up
Emergency water extraction
Emergency pack out and storage
911 Restoration of Metro Detroit North can help you after any property disaster. Crews are licensed, bonded, and insured to handle flooding, a pipe burst, or a sewage backup. You can also rely on us if you need help recovering from a fire, tornado, or mold remediation Troy outbreak in Sterling Heights. The Metro Detroit North office is open 24/7/365 at 586-232-0172
Our Water Mitigation Troy MI experts can quickly remove water from your property and begin flood cleanup. Fire cleanup specialists can focus on removing smoke, ash, soot, and odors while they perform sodablasting to handle fire damage.
Let us put your needs first after any property disaster in Troy. Get same-day help to ensure that your property is quickly brought back to better-than-new condition. The disaster restoration specialists at 911 Restoration of Metro Detroit North are dedicated to giving you back your peace of mind and making sure you get a Fresh Start.
What Equipment Is Used in Warren Disaster Restoration?
You may need disaster restoration services in Sterling Heights after a flood, tornado, fire, or sewage backup. The wide range of emergencies you may face means that it's important to customize your restoration services. The experts at 911 Restoration of Metro Detroit North may need to use a wide range of equipment, including:
Plastic sheeting to isolate damaged areas
Professional-grade pumps to remove large amounts of water
Dehumidifiers and fans to remove remaining moisture
Sodablasting equipment for fire cleanup
Specialized cleaners for mold decontamination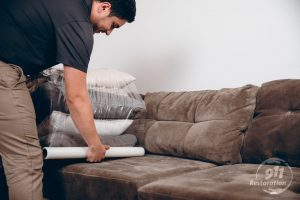 Water damage restoration specialists can assess your needs quickly with a water damage inspection. Based on the results of your inspection, techs can decide on a strategy to handle your needs. They may also be able to provide you with an estimate on how long it will take to complete disaster restoration and an estimate on the cost for property restoration in Troy.
Note that property owner's insurance often covers water damage restoration, fire cleanup, and mold removal services in Warren. However, your company will be more likely to cover restoration costs if you get help right away. Allowing damage to go unaddressed can encourage insurance agents to deny your claim.
Get fast help handling fire restoration, flood cleanup, and mold decontamination from 911 Restoration of Metro Detroit North. Our crews are ready to provide you with comprehensive disaster restoration services, regardless of the event that caused your property damage. Find out more by contacting us around the clock. If you need storm damage repair in Warren or the surrounding area, so contact us today at 586-232-0172
Does Disaster Restoration Help After a Natural Disaster?
Some property disasters in Sterling Heights are a result of a manmade emergency, like a pipe burst. Other disasters are caused by an act of nature. Tornados, tropical storms, and freezing weather in the winter months can all lead to property damage.
Fortunately, disaster restoration specialists can help you recover from these natural disasters. Water damage restoration in Troy can eradicate the damage caused by floods, blizzards, and summer storms in Troy.
Water damage restoration specialists are here to begin water extraction in under an hour after you call for help. Getting water out of your property quickly can reduce the overall damage to your home or business. Additionally, thoroughly dehumidifying your property reduces the odds that you will face a fungal infestation in Warren.
If you do spot signs of mold growth after a flood, pipe burst, or tornado, you can get help from 911 Restoration of Metro Detroit North. Our disaster restoration techs are licensed, bonded, and insured to take care of mold removal. You can count on us to eradicate fungal growth in your home or business in Warren.
As a IICRC-certified full-service property restoration company, 911 Restoration of Metro Detroit North can return your property to better-than-new condition after a disaster. You can reach out to us if you need help after a tornado, fire, flood, or any other destructive event. Crews put your needs first as they focus on fully renovating and repairing your home or business. We provide full-scale service for hurricane restoration in Warren. Find out exactly how we can help you by calling us at 586-232-0172 now.
Serving the communities of Rochester, Southfield, Sterling Heights, Troy and surrounding areas