Sewage Cleanup
Sewage Backup and Cleanup
911 Restoration of Metro Detroit North can help you handle a sewage backup, 24/7/365. Get a Fresh Start by contacting our IICRC certified cleanup specialists today. Crews can reach your property within 45 minutes of an emergency call. Allow us to help restore your home or business in Sterling Heights, Troy, and surrounding areas.
Sewage water backups can happen without warning at any time of the day or night. Fortunately, the water and mold restoration specialists at 911 Restoration of Metro Detroit North are on-call around the clock. Crews can begin restoration in under an hour to give you back your peace of mind. 
Contact us right now if you experience sewage water damage in Sterling Heights. Crews can race out to your property and offer you:
A water damage inspection

Fast help removing sewage from your property

Decontamination services for all areas exposed to sewage

Odor removal services to return your property to perfect condition
You don't have to try to handle toilet water damage alone in Troy. 911 Restoration of Metro Detroit North offers fast help to commercial and residential property owners dealing with a backup. Getting help quickly can limit the sewage water damage to your property and protect your health.
The professional at 911 Restoration of Metro Detroit North understand the best ways to take care of cleanup. Begin the restoration process by reaching out to us as soon as your backup occurs. We offer you the same-day help you deserve if faced with sewage water damage in Warren. Call us at 586-232-0172 to provide you sewage backup and sewer backup in Metro Detroit North, and please allow us to offer you a free visual inspection.
Is Warren Sewage Cleanup Like Water Damage Restoration?
In many ways, sewage water cleanup in Warren is similar to water damage restoration. Both of these processes require licensed, bonded, and insured technicians to:
Remove excess liquid from your property using water pumps

Use dehumidifiers to remove remaining moisture

Repair damage caused by excess moisture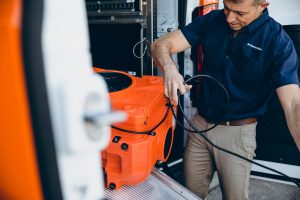 However, cleanup often requires extra attention to detail. Raw sewage contains contaminants that flood waters often do not, for example. For this reason, toilet water damage should only be handled by restoration professionals who have the equipment and safety gear necessary to accomplish the task.
Sewage water backups often require technicians to perform extensive decontamination of your property. This decontamination also focuses on removing the foul odors associated with a sewage backup in Sterling Heights, so your property can be brought back to perfect condition.
As a water cleanup company, 911 Restoration of Metro Detroit North is ready to help you handle sewage water cleanup as well as water damage restoration. You can contact us if you have a pipe burst, toilet overflow, or even a flood. Our property restoration specialists can assess your unique needs today with a water damage inspection.
It's important to start the restoration process quickly for both flood cleanup and sewage cleanup in Warren. That's why 911 Restoration of Metro Detroit North provides around-the-clock care for property owners in Warren. You don't have to wait for business hours to start getting the help you need if you're dealing with a water backup. Call us at 586-232-0172 and learn how we can help you. We provide you hurricane restoration and storm restoration services in Metro Detroit North.

Will Mold Grow After a Backup in Warren?
Mold often grows quickly in areas that are damp or dark. Sometimes, mold infestations are more common after a sewage backup in Warren. Sewage can contain a number of organic compounds and contaminants that support the growth of fungus. 
Fortunately, our IICRC-certified team at 911 Restoration of Metro Detroit North can help you with mold removal following a sewage water backup. Our crews are trained to take care of mold remediation in both commercial and residential properties throughout the area surrounding Troy.
Mold decontamination often involves isolating areas with fungal growth using plastic sheeting and negative air pressure machines. Technicians can scrub down areas exposed to mold removal, removing the fungus and handling odor removal in Sterling Heights.
Sewage water cleanup specialists can check your home or business for evidence of fungal growth with a mold inspection. You may also notice mold growth on your own. Make sure that you contact a mold cleanup professional right away if you spot strange discoloration on your walls or foul odors that don't seem to have an obvious source. Call us at 586-232-0172 and see how we can help you.
Allow 911 Restoration of Metro Detroit North to handle all of your needs after a sewage water backup. Let us take care of sewage removal, decontamination, and even mold remediation in Troy. No job is too big or too small for us, and you can reach out to us as soon as you experience toilet water damage. Begin same-day sewage restoration by reaching out to a property restoration company that will always put your needs first.
Serving the communities of Rochester, Southfield, Sterling Heights, Troy and surrounding areas