Water Damage in Metro Detroit North
911 Restoration of Metro Detroit North
You can get fast help handling a property damage emergency in Metro Detroit North. Contact 911 Restoration of Metro Detroit North to speak to IICRC certified techs 24/7/365. Property restoration specialists can provide you with a Fresh Start after they race out to your property, arriving within 45 minutes of an emergency call.
You can count on the experts at 911 Restoration to help you recover from a flood, pipe burst, or ice dam in Sterling Heights. Crews are also trained to handle fire damage remediation and puffback cleanup. You can even rely on us if you need assistance dealing with a mold outbreak.
At 911 Restoration of Metro Detroit North, we offer a Fresh Start with our comprehensive selection of property damage restoration services, including but not limited to:
Whether you're a Metro Detroit North homeowner or business owner, 911 Restoration of Metro Detroit North is your Fresh Start! We'll communicate with you throughout the entire process, help answer questions related to insurance, and restore your property to its pre-damaged condition. One of our IICRC-certified teams is dispatched within 45 minutes of your call! Contact us today, and one of our friendly representatives will assist you in finding the nearest Metro Detroit North location.
Water Damage Restoration in Metro Detroit North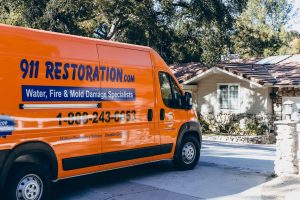 Our water damage Sterling experts in Warren can renovate your property if you have a ceiling leak, flooding, or even frozen pipes. The flood cleanup specialists at 911 Restoration of Metro Detroit North are prepared to:
Extract water with professional-grade water pumps
Dry your property with dehumidifiers
Repair damage caused by excess water
Water damage remediation can help if you have frozen pipes or ice dams caused by the cold winter months. You can also count on flood cleanup crews to help with a flooded basement, toilet water damage, or carpet drying.
All our water damage removal experts are licensed, bonded, and insured to assist you in Detroit or any other surrounding cities. Ensure your property is returned to better-than-new condition by reaching out to us immediately after you experience a water damage emergency. Techs are standing by to take your call now.
Service area map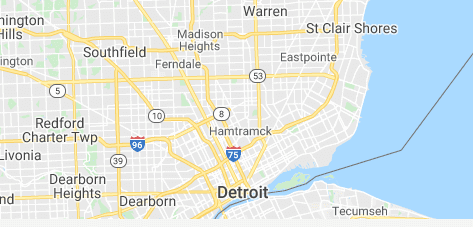 Sanitization Solutions & Disinfection Services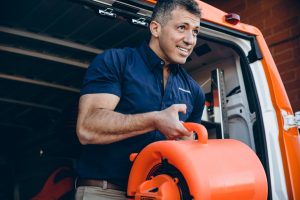 With the coronavirus, the negative impact on our daily lives is more noticeable than ever. No business or person has managed to avoid complications this pandemic brings worldwide. For this reason, it's important we all do our part while research is ongoing. Fortunately, we can all contribute by maintaining our personal hygiene.
Property owners have an opportunity to be a large part of the solution by ensuring their buildings remain sanitized according to the latest protocols. Doing this allows owners to ensure the people who come and go remain as protected as possible. That's why 911 Restoration of Metro Detroit North is standing by to assist by performing sanitization services along with various disinfection solutions for both residential and commercial properties. All of our technicians are trained to be fully compliant with all current CDC and EPA protocols in an effort to provide optimal results with our sanitization services. As part of the Metro Detroit North community, we'll do everything in our power to deliver the peace of mind you can count on.
Mold Removal
You can get same-day help with mold removal in Warren. Note that mold will continue to grow and spread until the infestation is eliminated. Fortunately, 911 Restoration of Metro Detroit North can often complete mold remediation in one-to-five days.
Our mold removal experts know how to find mold, even in hard to reach places. Crews can perform a mold inspection in Sterling Heights for you right now. Mold cleanup specialists can get rid of a fungal infestation under your floors or behind your walls.
911 Restoration of Metro Detroit North can also take steps to prevent another mold remediation Troy MI infestation from hitting your property in the future. Keeping your property dry and dehumidified can reduce the odds that mold will return to your home or business in Troy.
Allow us to handle dehumidification alongside mold removal so you can get back your peace of mind.
Sewage Backup and Cleanup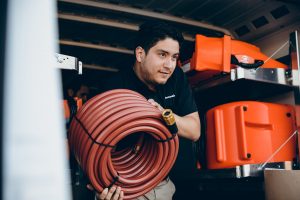 Sewage backups can flood your property in Sterling Heights with raw waste. You can get rid of sewage water quickly by reaching out to 911 Restoration of Metro Detroit North. Sewage cleanup crews can move fast to remove the sewage, disinfect your property, and get rid of odors.
Toilet water damage in Troy can be difficult to handle on your own, especially because sewage is considered black water. Black water contains dangerous pathogens, including bacteria. Black water should only be handled by individuals with protective gear.
Sewage cleanup experts at 911 Restoration of Metro Detroit North know what it takes to handle a sewage backup. Allow us to get rid of raw sewage for you. We are also ready to remove all odors associated with a sewage backup, so you cannot even tell you experienced the damage. Contact us now to get the sewage cleanup process started.
Fire and Smoke Damage Restoration
911 Restoration of Metro Detroit North can help you recover from a commercial or residential fire. Our fire damage experts are on-call around the clock. They can handle:
Fire cleanup with sodablasting
Structural repairs to your home or business
Water damage restoration for sprinkler water damage
The removal of smoke, ash, and soot
Fire damage restoration in Warren can start fast after you experience a Detroit or fire damage. Crews can even offer you roof repairs and boarding up services. Preventing your property from suffering additional damage is a priority to fire damage restoration specialists in Warren.
You can also contact 911 Restoration of Metro Detroit North if you need assistance with puffback cleanup in Sterling Heights. Allow us to take care of ash, soot, and smoke removal if you have a misfiring furnace in your home or business.
Disaster Restoration
Are you dealing with a property disaster in Warren? We can offer you face help with disaster restoration. You can reach out to us if you're dealing with flooding, tornado damage, fire damage, or a mold outbreak.
Moving quickly after you experience a property  certified disaster restoration can reduce the total damage to your property. Fortunately, water damage restoration experts can reach your property in under an hour to start water extraction and flood cleanup.
Warren fire damage restoration will also move quickly to help you in a disaster situation. Allow us to quickly identify your needs with a fire damage assessment. Crews can even pack out and store your undamaged belongings, so you can rest easy after you experience a property disaster.
Get the Fresh Start you deserve after a tornado, blizzard, or fire in Troy. Contact 911 Restoration of Metro Detroit North to get same-day help with disaster restoration services.
Commercial Water Damage Restoration in Metro Detroit North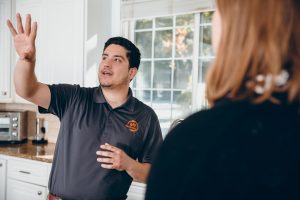 Business owners in Sterling Heights can contact 911 Restoration of Metro Detroit North for help after a fire, flood, or mold outbreak. Our commercial restoration specialists are ready to take charge of renovating your business. Crews can offer you:
Commercial water damage restoration
Commercial fire damage restoration
Commercial mold removal
Commercial sewage cleanup
We personalize the commercial restoration services offered to our customers in Troy. Allows us to work around your schedule. You can continue to focus on the needs of your customers while we handle flood cleanup, fire damage restoration, and mold remediation.
All techs are trained to handle the challenges associated with commercial restoration. Crews utilize professional-grade equipment to remove water, repair fire damage, and fully renovate your commercial property. Find out more about how we can help you by contacting us 24/7/365.
Property restoration crews at 911 Restoration of Metro Detroit North always put your needs first. Call our IICRC-certified team today to find out exactly how we can offer you a Fresh Start.
Serving the communities of Rochester, Southfield, Sterling Heights, Troy and surrounding areas