Water Damage and Mold Removal in Troy
Being a property owner in Troy is a role that's full of a lot of responsibility. While there are many, the largest responsibility is to address any property damage that developed as soon as possible. It's true that property damage can anything, but the one to watch out for most is water damage.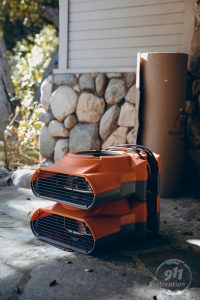 Water damage can develop thanks to anything from a pipe burst to a leak under the sink resulting in the need for immediate professional help. That's why our IICRC certified technicians are standing by 24/7/365 ready to get to work on any mold removal or water damage restoration needed by our Troy customers. Whether you live in Troy, Auburn Hills, Sterling Heights, or another city in the Metro Detroit North area, we promise to arrive within 45 minutes ready to get to work on your flood cleanup service.
Mold only takes 24 hours to show up on the property when water damage remains present. The longer you delay in removing the excess water, the further the mold contamination spreads throughout the property. Should this occur, the only reasonable move is to immediately hire professional mold removal services.
As soon as you're aware of the need for mold removal or water damage restoration call 911 Restoration. Our technicians are standing by ready and able to assist you with anything from water damage inspection to flood cleanup. Call today to get the Fresh Start you need to begin anew in Troy and surrounding Metro Detroit North area.
The Best Water Damage Company in Troy
Water removal is not a simple process that just anyone can successfully do. In addition to the water cleanup, careful evaluation of the property's structure along with other concerns is needed. Failure to properly address all possible complications can lead to greater problems in the immediate future.
For this reason, the best water damage company is a company that supplies the comprehensive service needed to address all possible concerns throughout the water damage restoration process. This can only be achieved with a company that combines attention to detail, superior technique, and state-of-the-art equipment in one superior package. 
Our IICRC certified technicians are committed to the water damage restoration process. That's why we developed our water damage restoration process to perfection using a combination of ongoing training and years of experience. 
The process always starts with a visual water damage inspection. Throughout the inspection, we coordinate our findings to ensure we understand the extent of the water damage, the status of any existing mold infestation, and what repairs are required to restore the property to good as new. As soon as the inspection is done, our IICRC certified technicians move onto the next step, which is our water extraction and drying process. 
With this step, we use nothing less than the latest water extraction equipment and commercial dryers to ensure the property is dry as a bone. As soon as the property is done drying, we get to work on any repairs needed from carpet installation to repairing the source of the water damage.
As soon as you notice or suspect mold or water damage, call 911 Restoration. We'll show up within 45 minutes to get to work on your mold removal and water damage restoration. Don't delay in getting the Fresh Start you need to move on in Troy.
Understanding Flood Damage Cleanup Problems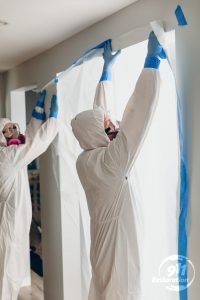 Flood damage whether it's a flooded basement or a result of an overflowing toilet is a complicated process that needs to be handled with care. One of the largest concerns is a frozen pipe, which can quickly become a pipe burst if under too much pressure. This can lead to a release of excess amounts of water packed with contaminants such as dirt or debris.
That's why our flood cleanup process is adapted from the standard water restoration process. We created it to handle excess amounts of water along with the contaminants present within floodwater. We refuse to compromise on our customer's health and safety, which is what makes us the preferred flood cleanup company for our Troy customers.
We begin the flood cleanup process with a combination of decontamination and mold decontamination. After that task is done, we're ready to begin the water extraction process along with any needed repairs to restore the property to good as new.
Call 911 Restoration as soon as you need emergency restoration services. Get the Fresh Start you need.
Servicing the cities of Auburn Hills, Berkley, Birmingham, Center Line, Clawson, Huntington Woods, Madison Heights, Pontiac, Rochester, Rochester, Royal Oak, Southfield, Sterling Heights, Troy, Utica, Warren, Waterford, and surrounding areas.