What to Do Before a Flood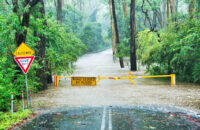 Climate change effects have made floods inevitable as a result of rain. Hence, most states in the US face the risk of floods after heavy rainfall. Detroit residents have to be extra careful as they can receive heavy rainfall due to weather changes in Mexico too. However, even if you live in an area that doesn't receive heavy rain and has a low risk of flood, you should still prepare for your home's safety when there is a risk of warning. Ensuring the security of your home from floods will directly ensure your and your family's safety. 
Let's take a look at some of the measures that can help keep your home and your family safe:
Prepare a Flood Emergency Plan
A flood emergency plan includes various steps that begin after analyzing the risk of flood damage. Analyzing the flood damage in an area can mentally prepare the residents of that area for what is coming. If the flood damage risk is high, residents may seek shelter outside their homes. In such a case, they will need to prepare their homes to minimize flood damage and ensure the safety of any precious belongings. Other steps in a flood emergency plan may include:
Staying informed. Sudden weather changes may lead to sooner or heavier rainfall.

Providing emergency health care for permanent patients.

Preparing for weather survival. Any kind of weather can be unbearable without proper shelter.

Ensuring electrical and chemical safety. Fire risk due to electrical or chemical reasons can increase during the flood. 

Developing a communication system. A regular communication system may not work during or after rain. 
Prepare Emergency Survival Kits
You can buy or prepare emergency survival kits. We advise preparing them yourself as you will be able to customize the survival kits according to your household members' individual needs and according to the weather or the intensity of the disaster. Each emergency survival kit should include:
Non-perishable food items 

Drinking water

Battery-powered radio with extra batteries

Flashlight with extra batteries

First-aid kit – including prescription medicines according to household needs

Personal hygiene and sanitary products

Whistle

Copy of flood emergency plan with a list of emergency contact numbers

Plastic sheets to block rain and floodwater

A change of clean weather appropriate clothes, a small blanket, raincoat, and boots

Waterproof bag for belongings
Make individual kits for every person in your household. Store these kits at a place that is easily accessible for the upcoming emergency.
Seal the Basement
Basements have higher chances of being flooded. However, you can protect your home's basement by sealing any cracks or gaps in the walls. If there are windows in your basement, ensure that they are completely sealed shut too. You don't want water seeping into your basement as it will increase the chances of your home being flooded. If you can, install a suction pump to pump water away from your home. 
Raise Electronics from Flood Level
Stay updated on the risk of flood levels and raise all the electronics in your home above the predicted flood level. This will ensure their safety from flood damage and the ensuing water damage. Raised electronics will also lower the risk of a fire starting in your home. Covering any electric sockets on ground level with heavy-duty plastic and duct tapes will also enhance your home's security. If there are any cracks or gaps in the walls, seal them up before the flood as electric wiring can be affected by the water seepage in the walls. 
Keep Sewage Lines Clear
Blocked sewage lines can add to the flood damage. Blockage in sewage pipes can keep the floodwater standing and stop it from flowing away from your home. On the other hand, clean sewage pipes can considerably lower the risk of water damage for your home by letting water easily flow away from your home.
You can further enhance your home's safety from water damage by closing the water valves that allow water into your home. This step will ensure that your home will not be flooded even if the sewage system overflows. When the monsoon season begins, avoid dumping anything in your kitchen sink that can create a blockage, like oily or greasy food, to keep your home's sewage lines clean. 
Place Sand Bags outside All Entrances
Sandbags can significantly help save your home from floodwater. Put out as many sandbags as needed outside all your home entrances for maximum safety. You can also put sand bags underneath windows or around your home to further reduce water seepage into the basement. 
After the flood, call your insurance company and a home restoration company to measure flood damage in your home. Water damage from a flood can sometimes be missed from regular inspection. It would be best if you got your home inspected as soon as the disaster is over to ensure the complete safety of your home and family members. 
Moreover, preparing your home structurally to find off climate change can make it easier for you and your family to fight natural disasters. You can install safety features in your home's walls, roof, and even in the ground to make your home a haven. Many restoration companies, such as 911 Restoration of Metro Detroit North, offer complete water and flood damage services as well as mitigation services for enhanced home safety.