Cleaning Up Washing Machine Overflow & Water Damage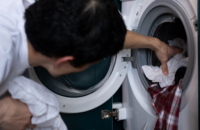 Washing machine overflow may seem harmless when flowing into the drain, but if it starts leaking into your home or your carpet, you should immediately call water damage restoration services. The detergent you use pulls out all the germs, dirt, debris, and other substances from clothes, turning fresh water into graywater or category two water. 
More than 80% of households in the US have washing machines, making it one of the most common residential spaces. A typical laundry load uses 30 gallons of water (standard bathtub size), which, if leaked, can wreak havoc in your home. 
While 30 gallons of fresh water can lead to water damage and the need for mold removal services, imagine what it can do if the water is contaminated. This article will look at how you can clean washing machine overflow and the considerations you need to make when doing so. 
Cleaning Up Washing Machine Overflow & Water Damage
Washing machine overflow can damage not only flooring but also the walls cabinets, and even seep into the floor below and damage its roof. Without water damage restoration, the water may end up adversely impacting your floor's integrity and risk a 'cave in.' 
This is doubly so if the water has soap and gunk from your clothes. While soap on its own may not impact the drywall or wood floor, mixed with washing machine water, it can seep into the wood and cause it to expand. The chemicals can further exacerbate the damage and cause irreversible expansion. 
The damage may not be a biohazard if the damage is from water released after spinning, but if the washing machine overflow is during the rinsing phase, you may also need to get your place sanitized. Depending on how long ago the water damage was, the time for recovery may vary. 
On average, it may take 3-4 days for water damage restoration. Add another day if mold restoration services are also required. Sanitization at the end may take no more than an hour or two. If the damage isn't too extensive or greywater, you can use the following method to clean up washing machine overflow. 
Supplies You'll Need
Towels or rags

Bucket

Mop

Soap or another floor detergent

Bleach

Baking Soda

Water pump if the water is stagnant and there is no drain nearby. 

Wet vacuum cleaner

Dry vacuum cleaner

Drying fans (preferable heavy-duty)

Dehumidifiers.
Water Damage Restoration After Washing Machine Overflow
Turn off the water valve, especially if the supply line is causing the issue

Turn off your washing machine and unplug it. 

If the water is about to reach a socket or other electrical point, turn off the electricity as well. Flip the main circuit breaker for good measure.

Unplug any other appliances nearby, even if the electricity has been turned off. 

Start removing the standing water. If the water level is higher than 1 inch, use a pump to push the water directly into a drain. If it is less than 1 inch, use towels or your mop to soak up water and wring it out in a bucket. 

Clean up any remaining puddles and conduct a visual inspection to identify the extent of water damage restoration needed. 

Use the wet vacuum to suck up as much moisture as possible before starting the drying process. 

Remove furniture and place it in a well-ventilated area – preferably with a fan blowing hot air onto it.

If there are any damaged items, inspect them thoroughly to see if they can be restored or not. Throw away overly damaged items. 

If your wall is damaged, use a drywall cutter to remove at least two inches above the waterline. You will need to replace the water-damaged drywall to mitigate the risk of mold. 

Conduct another visual inspection after removing the water and furniture to check if you need

mold removal

services. 

Start drying the flooded area. Place your industrial fans and dehumidifiers in such a position that the wind blows directly onto the damp area and has a place to exit. Normal house fans take about 2-4 times as long and therefore significantly increase the mold risk. 

Remove water from the washing machine carefully. Make sure it is drained properly. 

Empty the washing machine. 

While your property is drying out, see whether the clothes need to be washed again or not. Use a hose to rinse away the soap if needed and wring them out. Instead of using the dryer, we recommend hanging them out in the sun to reduce the risk of another overflow. 

Dump the water into the drain or outside.

To avoid the risk of overflows, do not use the machine again and call an expert. 

Disinfect and deodorize your home. You may have mold if there is a musty smell in your property even after the restoration process is complete. 

When disinfecting, mix one cup of bleach and a gallon of water to clean the washroom and toilet itself.

Rebuild the damaged area and make sure there is no risk of mold in the future. 
The water damage restoration and mold removal process can be quite taxing on you alone. Furthermore, you also need to be extra careful about missing any spot during the restoration process. Even the slightest bit of dampness can lead to mold in the future. 
If the washing machine overflow resulted in greywater in your property, you should not attempt water damage restoration on your own for your own and other occupants' safety. We are ready and waiting to help you out, no matter the time or conditions. Give 911 Restoration of Metro Detroit North a call, and we'll send IICRC certified professionals over within 45 minutes!